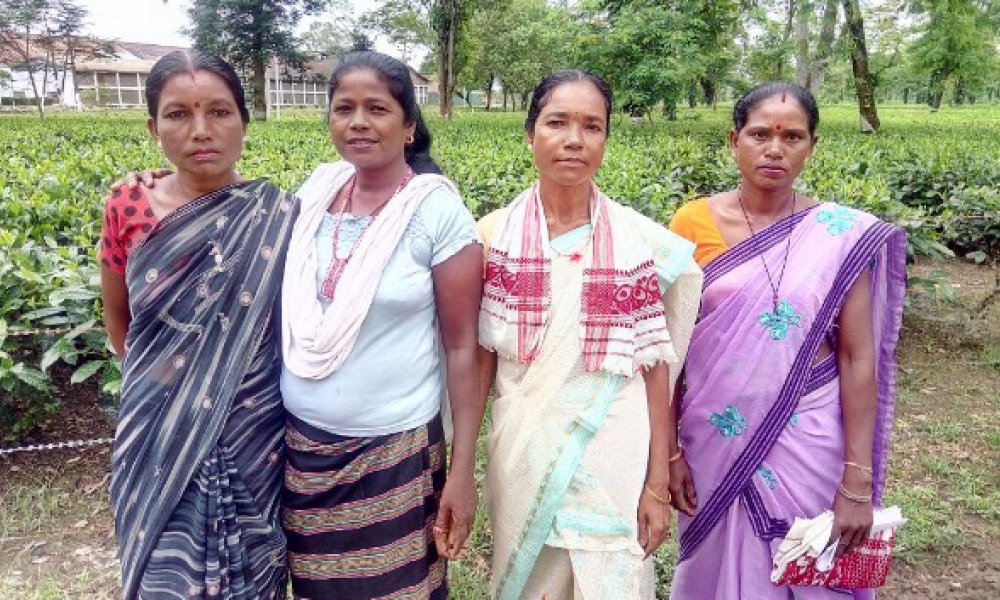 Borhat Supervisors
Though 55 to 60% of the total workforce of tea industry is dominated by women, but there is little representation of women in management, staff and workers in tea estates. Sirdars or supervisors is a male dominated position in the tea gardens. Borhat Tea Estate was no exception. But 4 women pluckers were upgraded as sirdars since 2012 and they are performing very well. A LITTLE STEP TOWARDS WOMEN EMPOWERMENT. Today they are proudly supervising the pluckers under them and they have inspired many other women to dream of becoming a Sirdar one day. There achievement is a story of gender neutrality at the tea gardens.
Lets meet them individually!
Smt Maini Mura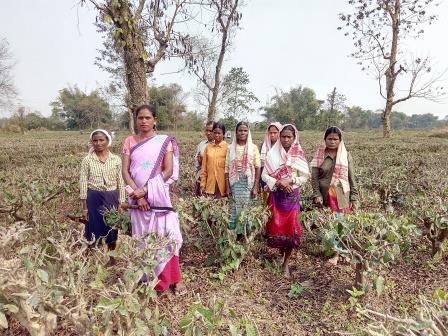 Maini Mura with her challan
Age: 31 yrs
Husband: Sri Somra Mura
Children: Son- 1 (9Yrs), Daughterl-1 (13 Yrs)
Both the Son & Daughter are studying in class-VI.
The daughter faced a very tough life due to severe illness. She dropped from school but after recovery from illness mother Smt Maini sent her daughter to school again hoping a great future that her daughter will become a Doctor. She wants her son to become a BABU in Borhat TE.
Maini has adopted an orphaned girl named by Smt Moromi, aged-12 years and sending her too to school and studying in class-V. Maini is doing very hard to cover all the expenditures with her limited earning. She became Sirdar/Supervisor in the year 2017 and supervising a challan of 100 women.
Maini's daily life schedule is very tough. She has to get up from bed at 4.30 am and moves out from home to work at 6.45 am and reaches home at 5.00 pm.
Sri Sanjo Hasda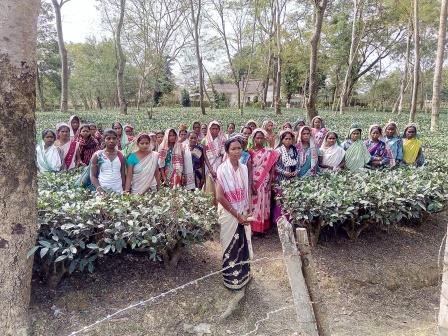 Sanjo Hasda with her challan
Age: 40+
Children: Son-1 (18 yrs), Dau-2 aged 21 and 15 respectively. Elder daughter got married off.
Son left school from class IX last year due to financial compulsion but Sanjo is determined to enroll him into school again in this year and will make him a good driver. Daughter is studying in class IX and she wants to be a nurse.
Sanjo lost her husband 11 years ago due to cancer.
She has no extra income other than the garden work and running her family with great difficulty. She faced lot of ups & downs in her life as it is not so easy in bringing up 3 children with a limited income.
She is very active and good at her work. She is an EEC member and also a member of Anti-Sexual Harassment committee. She has formed a Self-Help group of 12 members named by 'TULSHI'. The daily life of Sanjo is not less than a city life.
She has to get up from bed at 4.00 am and start to office at 6.40 am. She reaches home at 5 o'clock in the evening. She has to do all home works including cooking and all. Sanjo became a Sirdar /Supervisor in the year 2014 and looking after a challan of 100 women. She has a big contribution in making some tea sections more productive.
Jamuna Zal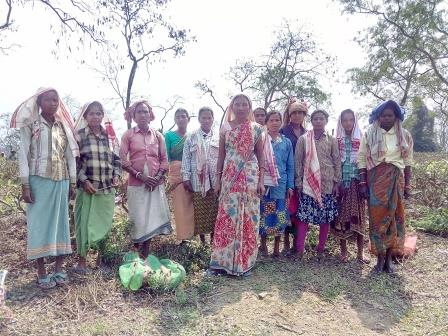 Jamuna Zal with her challan
Age: 47 yrs
Children: Son-2 (27 yrs, 23 yrs) Elder son has appeared BA final and the younger one has passed HS.
Husband left her 12 years ago and he got married to another woman. And since then she has been struggling to maintain her family and bringing up her two sons. She has no other income and depends only upon the garden income.
Jamuna became Sirdar/Supervisor in the year 2012 and supervising a challan of 200 women, which is a very tough job.
She was an EEC member and went to Kolkata AGM in 2014.
Sima Chatria
Age: 38 years
Children: Daughter-2 (19 yrs & 14 yrs) Both the daughters are studying in HS and class IX respectively.
Sima is also passing a very challenging life as her husband left her and she is doing very hard in bringing up her daughters. Sima is known as the BRAVE WOMAN in the estate due to her bravery in protesting illegal. She has been raising voice against green leaf theft in the estate.
The elder daughter wants to be a nurse in future.
Sima became Sirdar/Supervisor in the year 2015 and supervising a team of 50 women.