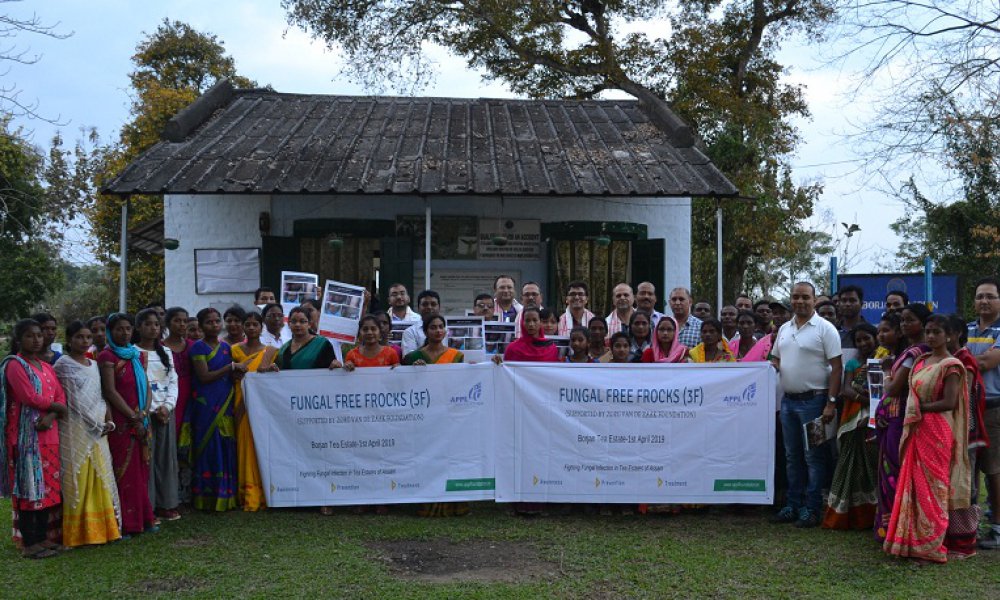 Inauguration of Fungal Free Frocks (3F) Project
It is seen that the Tea Garden workers, especially women suffer a kind of fungal infection which is particularly seen on their waist line. This fungus thrives in warm, moist areas of the body and as a result, infection can affect the genitals, inner thighs, and buttocks. Infections occur more frequently in the summer or in warm, wet climates. It causes irritation, itching, skin thickness, patches, oozing, swelling, and discharge.
The working women population typically owns few pairs of clothes. Further, they are often not properly sun dried, leading to the development of fungus, ultimately leading to fungal infection in women. The infections from women workers are sometimes transmitted to other family members including children. Although the incidence of infection is large, very often women do not seek medical intervention. The disease is mainly due to lack of awareness on maintaining clean and hygienic living conditions.
APPL Foundation, promoted by Amalgamated Plantations (P) Ltd, is rolling out the Fungal Free Frocks (3F) Project in 3 Tea Estates of Assam- Borjan (Golaghat), Chubwa (Dibrugarh) and Nahortoli (Dibrugarh). The proposed project, which is the first of its kind in India, has two parts- preventive (to prevent fungal infections from happening) and curative (medical intervention to treat the infection once it has developed). The preventive activities will focus on creating awareness on disease, provision of detergent/soap, and frocks/petticoats. The treatment will involve provision of free ointment and oral medication. The total number of beneficiaries is over 3400, spread across 2 districts.
This is a demonstration project for the entire tea sector where the issue of fungal infection is largely unknown and hidden. The project aspires to create a cured and health women tea worker, and a model character for the sector.