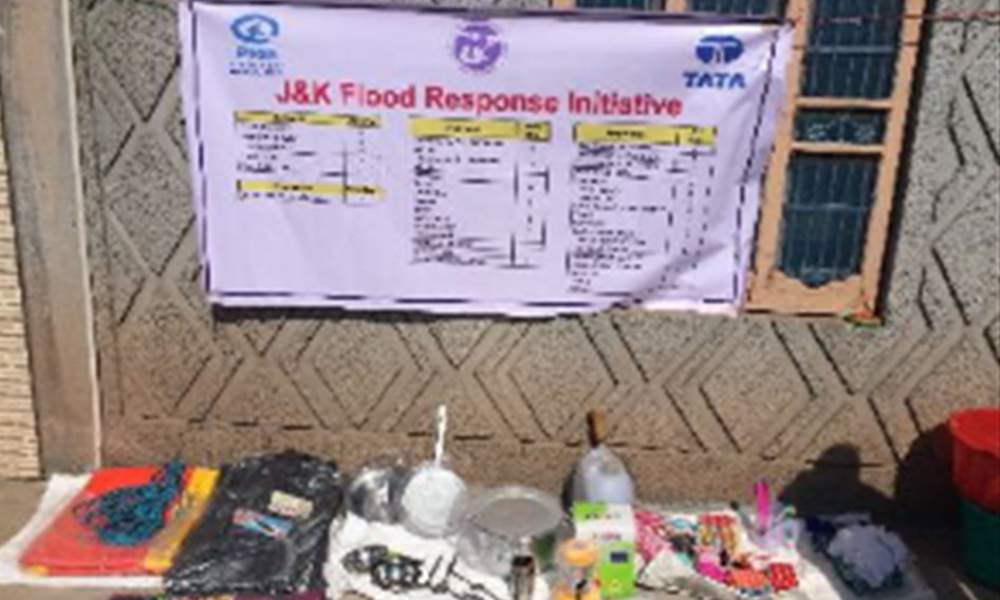 Jammu and Kashmir Floods: Situation Update 28th Oct
In the week gone, 2nd batch of 10 volunteers from Tata Chemicals, Tata Power, TBSS, Tata AIG, Amalgamated Plantations worked from 17th Oct till 27th Oct. They have handed over the responsibility to 3rd batch of 8 volunteers from Tata Communications, Tata Power, Tata Trust, Amalgamated Plantations & Tata Sustainability Group who would be working from 26th Oct till 5th Nov.
Till date, the team has distributed a total of 1754 relief kits (comprising of hygiene kit, cooking kit, blankets, phenyl, and bleaching powder) in the Kashmir valley. The team plans to distribute another 3200 relief kits in the coming 10 days. In addition to the relief kits, another set of 3500 winter kits (comprising of mattresses, thermal wear and Kangris) would be distributed to the affected households. The list of places where distribution has been completed is mentioned in the table below:
Block
Villages
No. of Beneficiaries
Srinagar
Umarabad
249
Firdausabad
185
Karpora
99
Shalimar
161
Manz Dehrun
18
Moti Mohalla
207
Doji Mohalla
38
Sutrashahi A
85
Baramullah
Mandyari A & B
190
Sofi Mohalla
Raid Mohalla
Zadi Mohalla
100
Anantanag
Tankipura
41
Jangalpura
22
Gund
168
Herjoy Hiller
8
Awantipura Pulwama
Gulzarpura
90
Nowgam
12
Batapure
12
Ganjirpura
5
Bandina
14
Kawani
50
Total
1754
Further, Tata Relief team has been in talks with the govt. for constructing of temporary shelters in the valley for people to sustain through the harsh winter. In this regard, a team from Tata Steel visited Srinagar and went around with a team from the Govt. of J&K to identify the land where these shelters would be built. The construction would start soon after a MoU is signed with the govt. to this effect.
The TRC team in Srinagar also donated Medicines worth 25 Lakhs to the Directorate of Health services, Govt. of J&K comprising of Drip sets, IV fluids, Sterilized bandages, Sterilized gloves, tablets and phenyl. The medicines were sent in 4 trucks directly to the Govt. warehouse.
Also, to expedite the relief work process, Mr. Kripal Singh has been moved to Jammu to oversee procurement of remaining kits and transportation of the same to Srinagar.