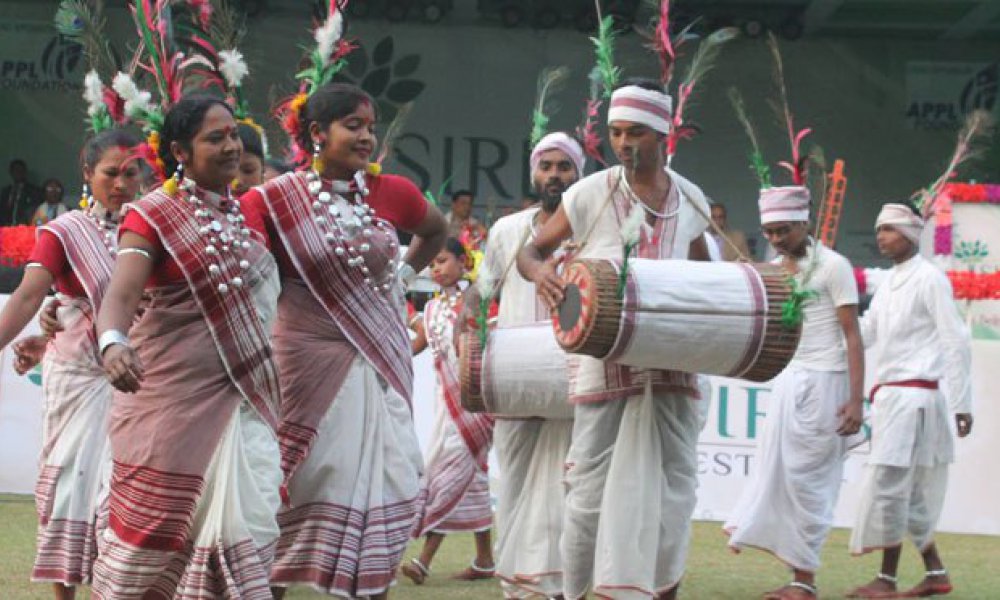 Sirish™ : Celebrating the Tea Community
The story of 'Assam Tea' begins in 1823 when Robert Bruce, an Englishman, met Birsa Gaum, the Singpho chief to explore the potential for tea. A century and half later, this blend has carved a niche for itself globally. It is possible that there isn't a tea lover who has never tasted pure Assam Tea. This great industry exists because of plantation workers who work tirelessly in the fields.
These workers have an interesting history. With the growth of plantations, the British indentured people from places like Bengal, Bihar, Odisha; even as far as Andhra Pradesh to work in Assam. Their descendants are today called 'the Tea/Ex-tea Tribe Community' and comprise 15-20% of the State's population.
'Sirish™', a brainchild of APPL Foundation is an initiative started in 2015 which aims to celebrate this rainbow community and unearth their heritage. This festival has now completed four editions, with the latest one held at Misa, a small tea township about 2.5 hours from Guwahati few weeks back.
The name is derived from Sirish™ tree, which grows abundantly in the estates and is also the site where the garden workers congregate after their day's work for music, dance and games. The name thus draws instant appeal. Sirish™ is a medium to enhance and propagate the literature, art and dance of the tea community.
This culture, although resilient, is fragile owing to its fragmented nature (the estates are scattered across Assam and North Bengal). Culture is a key ingredient for civilized society, and by upholding the traditions and integrating a sense of pride within the community, Sirish™ enables development of a holistic, self-sufficient and empowered community.
'Jhumoor' is often thought to be the end-all of the Tea Tribe culture, but it is only a beginning. With people coming in from such diverse regions, there is bound to be a lot of vividness. Since the first edition, Sirish™ has unearthed at-least 10 different dance forms, such as Sawra dance, Kurug Dance, Santhali dance, Sabar Dance, Satnami Dance and Odia dance. Even industry veterans who have seen these performances first hand at Sirish™ have been amazed.
Apart from folk dance, Sirish™ awards stalwarts from the Tea Community in the field of literature and culture with a cheque of Rs 1 Lakh and a citation. Already, 8 icons have been awarded. Popular sports, like kabaddi, greased pole climbing and archery also feature in the festival and draws scores of people.
Organizing an event of such a scale is difficult. The cumulative efforts have nonetheless borne dividends. 6000 artists have got a platform and nearly 30,000 people have attended Sirish™ till now with the broad achievement of celebration of diversity, mainstreaming the marginalized, documenting culture and building sustainable communities. This fact was further eulogized during Sirish™ 2018 which was graced by the Chief Minister of Assam, Sarbananda Sonowal.
Ranjit Barthakur, Chairman of APPL Foundation beautifully sums up his reason behind creating Sirish™.'Since the 1830's and over 8 generations, the Tea Tribes have been fundamental to the scaffoldings of rural Assam and has been a step towards creating bright futures in these remote but breathtakingly beautiful landscapes. It is in our best interest to promote the creation of sustainable futures in these rural locales.'
With the first rain of the season, the tea pluckers are now back in the fields. Some of them would be eagerly waiting and practicing for next year. Till that time, I will continue interacting and be mesmerized by this kaleidoscopic group. Or, to put it in Sadri (lingua franca of the tea gardens, which itself is a combination of different Indian languages), 'Roso Lagai' (I am mesmerized)
By Jatin Bavishi (Resource Executive, APPL Foundation)
source: eclecticnortheast.in