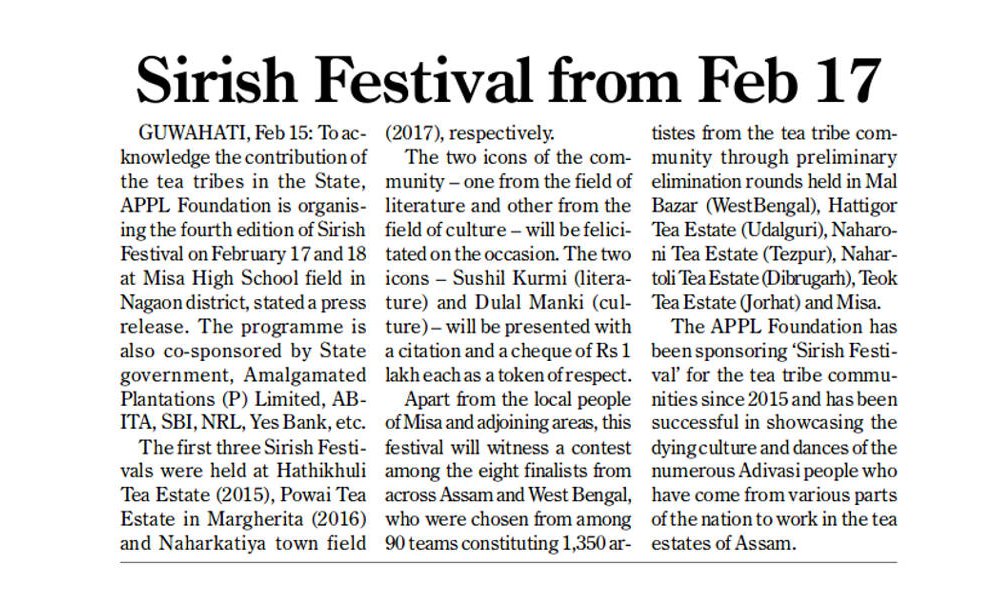 Sirish™ Festival from Feb 17
GUWAHATI, Feb 15: To acknowledge the contribution of the tea tribes in the State, APPL Foundation is organising the fourth edition of Sirish™ Festival on February 17 and 18 at Misa High School field in Nagaon district, stated a press release. The programme is also co-sponsored by State government, Amalgamated Plantations (P) Limited, ABITA, SBI, NRL, Yes Bank, etc.

The first three Sirish™ Festivals were held at Hathikhuli Tea Estate (2015), Powai Tea Estate in Margherita (2016) and Naharkatiya town field (2017), respectively.

The two icons of the community - one from the field of literature and other from the field of culture - will be felicitated on the occasion. The two icons - Sushil Kurmi (literature) and Dulal Manki (culture) - will be presented with a citation and a cheque of Rs 1 lakh each as a token of respect.

Apart from the local people of Misa and adjoining areas, this festival will witness a contest
among the eight finalists from across Assam and West Bengal, who were chosen from among 90 teams constituting 1,350 artistes from the tea tribe community through preliminary elimination rounds held in Mal Bazar (WestBengal), Hattigor Tea Estate (Udalguri), Naharoni Tea Estate (Tezpur), Nahartoli Tea Estate (Dibrugarh), Teok Tea Estate (Jorhat) and Misa.

The APPL Foundation has been sponsoring 'Sirish™ Festival' for the tea tribe communities since 2015 and has been successful in showcasing the dying culture and dances of the numerous Adivasi people who have come from various parts of the nation to work in the tea estates of Assam.
Published on: The Assam Tribune (http://www.assamtribune.com/scripts/at.asp?id=feb1618/Page8)