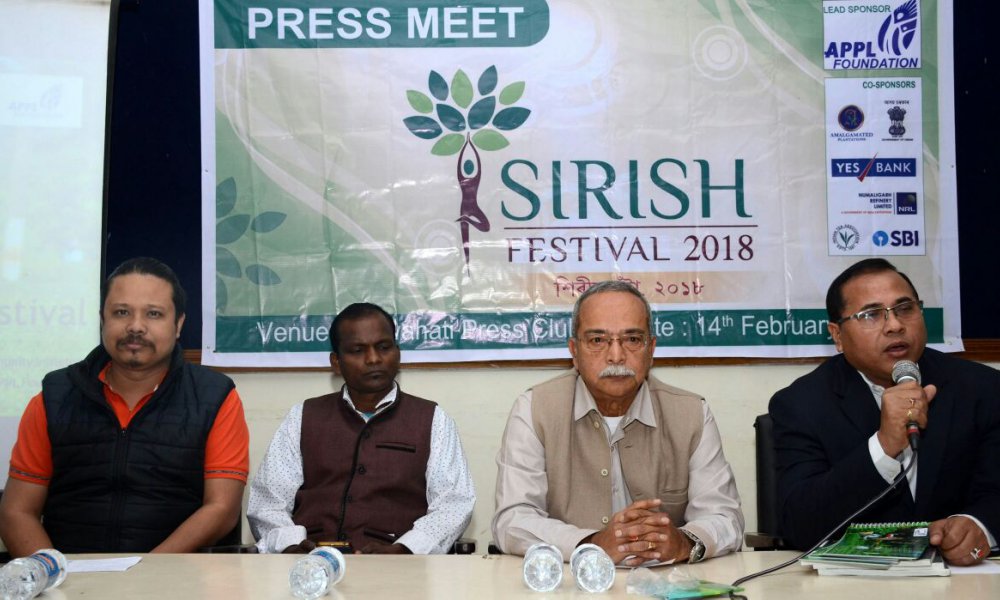 Tea Tribe Culture Fest
Speakers at the news conference on Wednesday. Picture by UB Photos
Guwahati: Two icons of Assam's tea tribe community - Sushil Kumar and Dulal Manki - will be honoured at Sirish Festival, being organised by APPL Foundation, at Misa, near Nagaon, on Saturday and Sunday.
Addressing a news conference, organisers of the event said the awards, comprising a citation and Rs 1 lakh in cash, will be given to Kumar for literature and Manki for culture.
APPL Foundation, a foundation of Amalgamated Plantations Pvt. Ltd, was set up in 2011 to promote the welfare of local communities in Assam.
The fourth edition of the festival will showcase the traditional dance, sports, art and literature of the tea tribes. Eight teams, chosen from 90 groups of Assam and Bengal, will perform traditional dances at the event. The best two teams will win prizes.
"The teams have been selected through preliminary elimination. Odissi, Kuruk, Munda, Tushu, Sawra, Porja, Satnami, Chattisgarhi and Surgujia dance forms will be showcased at the event," said Subir Barg, a singer belonging to the tea tribe community.
"The festival is an endeavour to preserve the culture and dance forms of the tea tribe community. Several dance forms have almost become extinct. The festival will help revive them," APPL general manager (agro business) Pratul Bora said.
After the first tea garden in Assam was established by the British in 1837, they imported thousands of workers from the Chotanagpur region, comprising the states of Bihar, Jharkhand, Odisha and Bengal. The-se workers came to be known as the tea tribe community.
Managing trustee of APPL Foundation Dhiraj Kakati said, "People, who came to work at the tea gardens here from different places, brought their respective cultures. The cultures got mixed with local Assamese culture. The festival will provide a proper platform for this culture to survive."
Diphu MLA Mansingh Rongpi, programme manager Debprakash Bhagawati and fashion co-ordinator Sirshajyoti Bora were present at the news meet.
Published on The Telegraph India: https://www.telegraphindia.com/states/north-east/tea-tribe-culture-fest-208657
Article Author: Ali Fauz Hassan