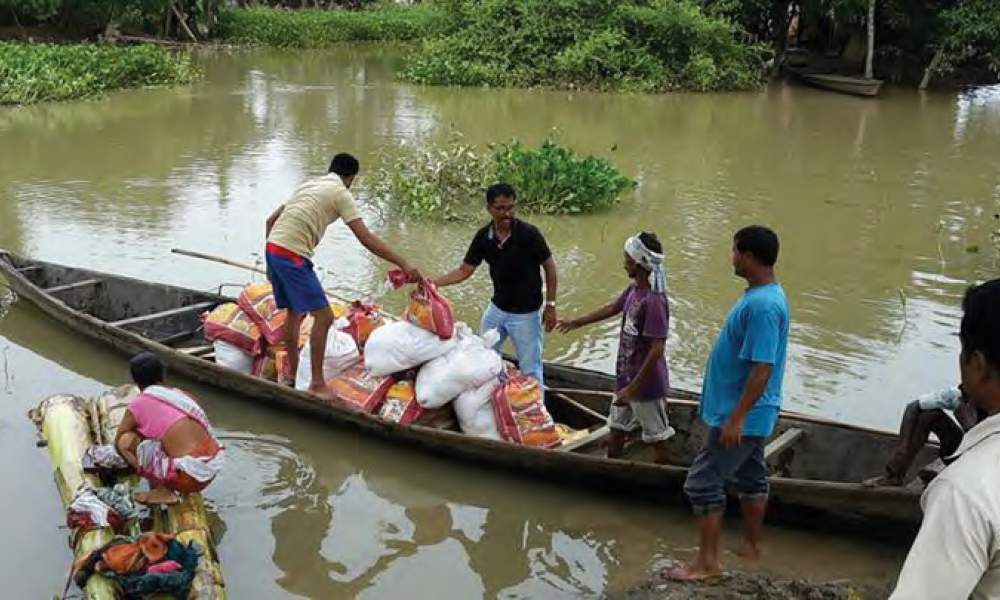 Assam Flood Relief
The Amalgamated Plantations Pvt. Ltd. team made their way to Jaikur, located 45 km away from Guwahati, to provide relief to the flood affected victims of the area. The inhabitants had taken shelter on a highland and a concrete PWD bridge in the village. The relief team with ten quintals of food grain had to take two country boats, to reach the area as the two bridges leading to the village were under renovation.
On reaching the site, the team witnessed the plight of the families who were forced to live under a single sheet of polythene with whatever belongings they could save before disaster struck. The highland area and the bridge where the victims had taken shelter, had turned filthy as their domestic cows, pigs or goats were also living in the same space.
The gaoburha (village headman), who had prior intimation of the Amalgamated Plantations team's visit, had meticulously listed the family names, ensuring a seamless distribution of relief to the villagers, who had gathered since morning with patient expectations. It would have not been possible to carry out this programme without the commitment and support that the team received from the volunteers of Rhino Club, Kukurmara.