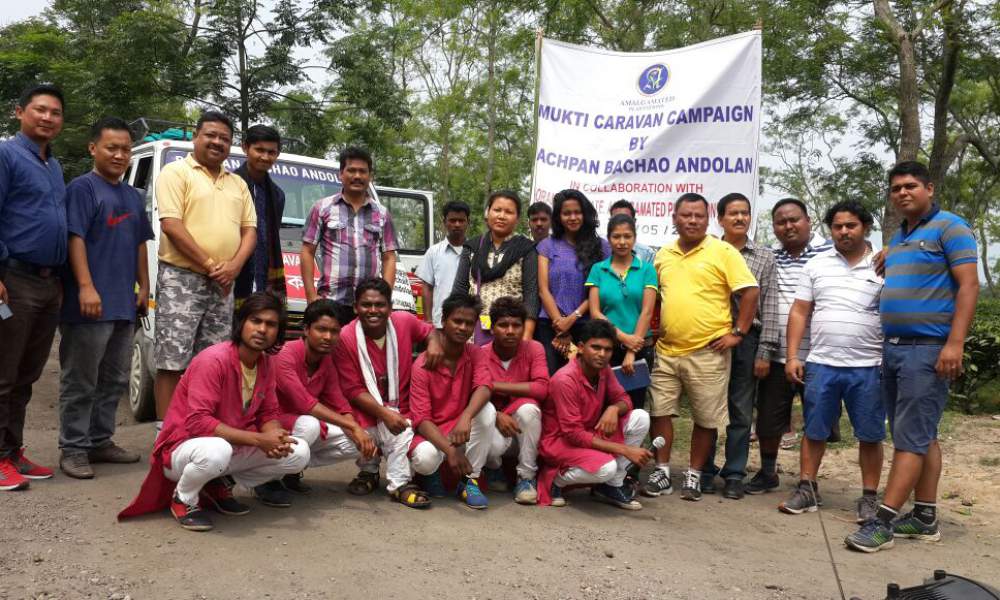 Organized Mukti Caravan - Anti-Trafficking and Child Protection Campaign
Nahorani tea estate is one of the 4 North Bank gardens where APPL Foundation has launched an Anti-trafficking programme in partnership with Baptist Christian Hospital in April, 2016. The other 3 gardens covered by the programme are Hattigor, Majuli and Lamabari. The neighbouring areas around these estates are also being covered as part of the programme, which is running for the second year.
Bachpan Bachao Andolan (BBA) has been also been doing a campaign programme called Mukti Caravan Campaign in several districts of Assam. Mukti Caravan, the mobile troupe, is a group of survivors of child trafficking and child labour. BBA organises campaigns in the source and destination are of child trafficking and child labour through Mukti Caravan. Between April 2012 and March 2013, Mukti Caravan organised campaigns across four states of India i.e. Delhi, Uttar Pradesh, Bihar and Assam, on child labour, trafficking, missing children and education. The caravan reached up to around 132,000 people through 396 performances.
The Mukti Caravan Campaign has started again in Assam from 20th February, 2016 and plan to cover 10 districts. The programme was held at Nahorani tea estate on 5th May, 2016. As is evident from the images, the programme saw the enthusiastic participation of large number of workers and their families in the presence of Amalgamated Plantations Senior Management and staff.