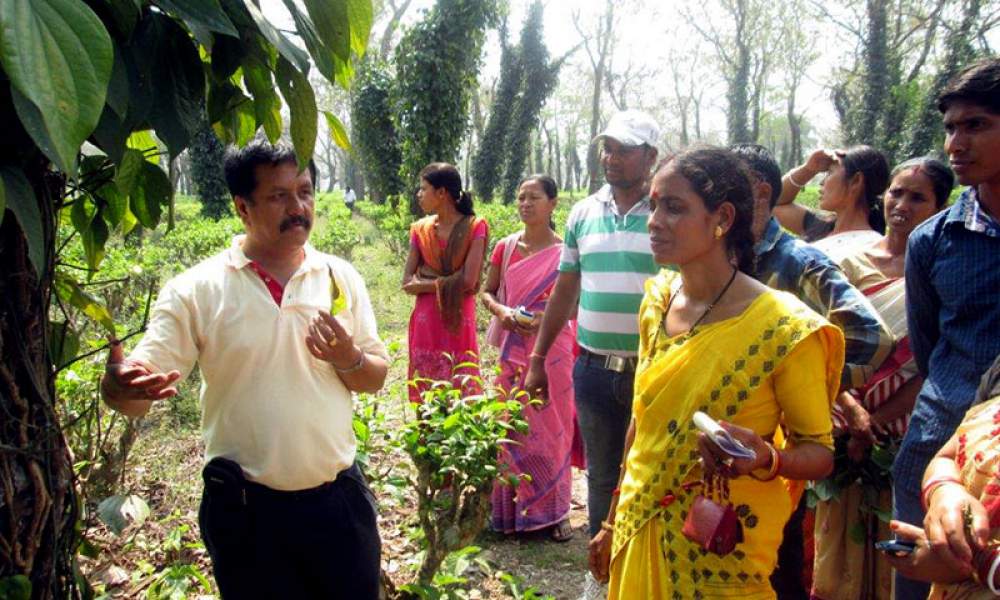 Tata Volunteering Week – Cultivation Training for 20 Women Farmers
The Tata Volunteering Week activity took place at the Kellyden Tea Estate on the 9th of March, 2016. The Agri Team and the Kellyden Estate Pepper Core Team joined hands to organize and participate in some voluntary activities by training 20 women farmers from the Goalpara District of Assam.
The theme of the Tata Volunteering Week No. 5 was to accumulate one million hours of volunteering work every year.
This agenda was furthered by our volunteers- Arup JyotiBorgohain, BhupalNeog, HorenPathak, HeeraPaswan, Lakhiram and Illiush at the Kellyden Tea Estate (Missa Division) on the 9th of March, 2016.
The volunteers trained and informed 20 women farmers hailing from 4 villages- Dhantola, Kathalmuri, Pulsha and Besia of the Rangjuli Block of the Goalpara District of Assam. The farmers were sensitized about Spice Technology. The intention was to enhance the income of the farmers via commercial production techniques, which would lead to a better livelihood. The focus was on sustainable agricultural practices applied to the production of pepper, which was the spice of choice due to its high value generation from lower volumes of production.
The volunteers explained how the low yielding crop would generate very high revenues after 4-5 years of planting, and how that would yield a steady form of income without disrupting other, regular farming activities.
Due to the anticipated revenue being very high, the group of 20 women displayed a huge amount of interest in cultivating pepper as an alternative, multi crop on their lands. The volunteers, inspired by the interest from the women, gave them a full-filed demonstration, covering all the aspects and activities of pepper cultivation, to make the volunteering week a resounding success.