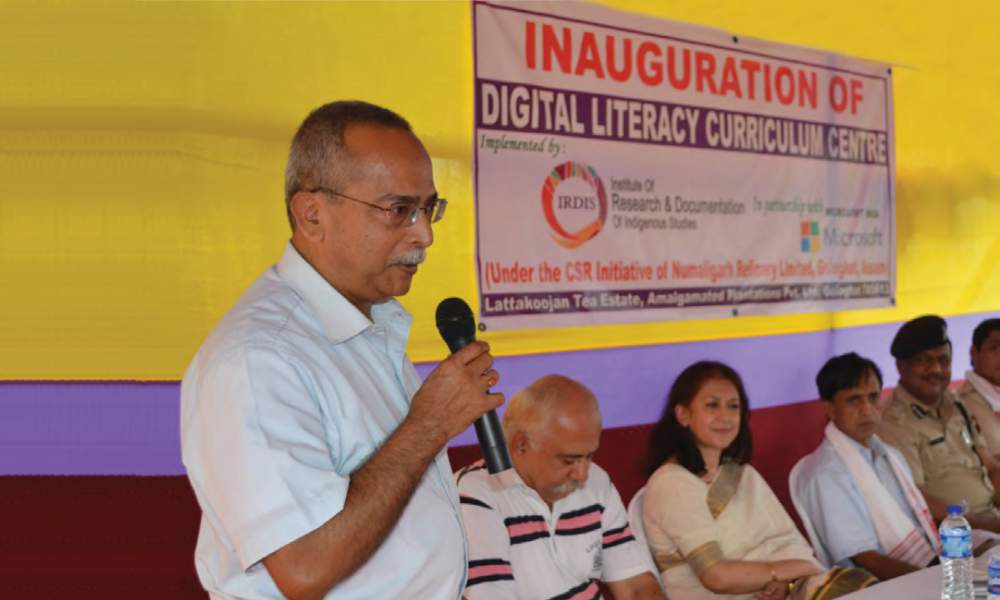 Digital Learning Centre
A DLC Centre was set up at Lattakoojan Tea Estate, Golaghat, in collaboration with IRDIS (The Institute of Research and Documentation of Indigenous Studies) a non-profit organisation, and Numaligarh Refinery Limited (NRL) in May 2014, with the objective of disseminating basic computer knowledge within the tea community. In current times computer literacy has the potential to empower and enhance employability of the population.
The Digital Literacy Curriculum provides baseline digital literacy skills such as the fundamental understanding of computers and use of the internet. Certificates provided by Microsoft and IRDIS are awarded to the participants on the successful completion of the training programme.
Students from the tea community, within and in the vicinity of the Lattakoojan tea estate have immensely benefitted from the computer lessons being held at the DLC. The students range from Class VIII to BA degree students. As the schools in the remote areas of Assam do not have computer education in their curriculum, the DLC programme has enabled them to become computer literate, free of cost.
Also the Advanced Computer Literacy Course introduced in the 2015-16, has inspired some of the students who have successfully completed the DLC Programme as well as students doing degree- level study, to pursue a higher level computer course at the DLC Centre.
The popularity and impact of the course has been so create employment opportunity for youngsters. A steady influx of students availing the opportunity as witnessed over the year has encouraged APPL Foundation to take the programme one step further. A similar centre in collaboration with HP has introduced Digital literacy courses to the tea tribe community teenagers at Chubwa Tea Estate under the aegis of GTET team.
Important Facts:
DLC, LATAKOOJAN : Students trained: 529
HP CLASSROOM, CHUBWA : Students trained: 30
| | |
| --- | --- |
| Basic Digital Literacy | 316 |
| Advance Digital Literacy | 90 |
| Percentage of Sucesssful Trainees | 46% |