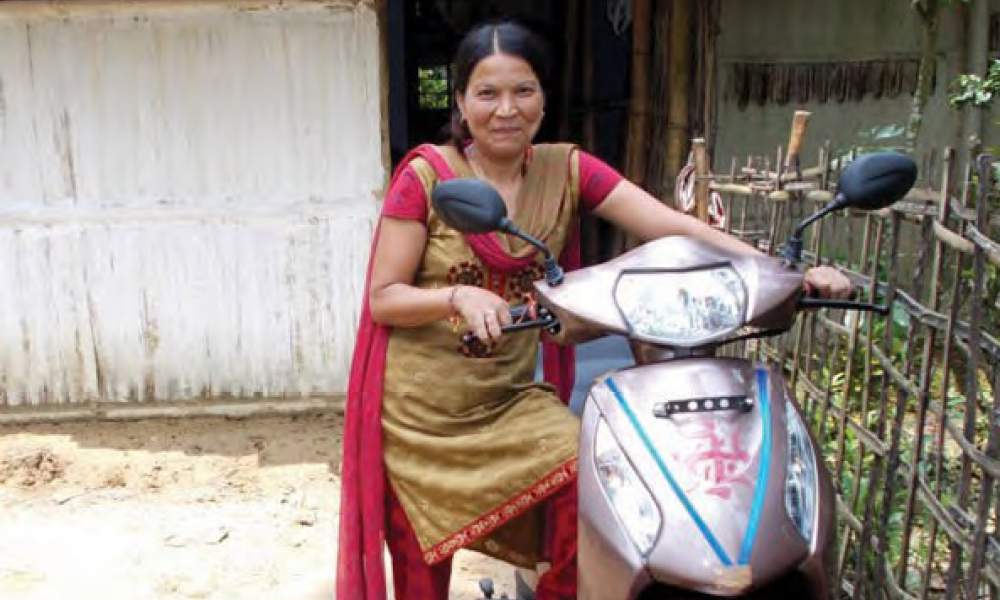 Rina Mondal - Inspired Success
Ms Rina Mondal, a permanent worker on the Chubwa tea estate, is in her early thirties. Her mother, a tea plucker, was also a permanent worker on the estate. As a young girl, Rina was taught to have fun with colours and design. Under the tutelage of the then Senior Manager, and his wife, Rina had learnt the art of making natural dyes from plants and vegetables to make coloured cloth. This had become her favourite way to pass time when she was not busy with school work.
Soon everything changed for Rina when she discovered that her brother was detected with a serious disease that needed expensive treatment, despite which chances of survival were very slim. Her world crumbled around her. She could not muster the courage to tell her parents that their only son would most likely not make it. It was then that she decided to quit school and join the Vocation Training Centre (VTC) at Chubwa tea estate. She thought that if she learnt basic tailoring skills she would be able to earn enough to pay for her brother's treatment. By now she had also given up her hobby of making natural dyes.
She put herself through the course at the VTC and began taking on small tailoring assignments on her own, in order to support her family and her brother. But just as things were beginning to settle down, tragedy struck once again and her ailing brother passed away. Shattered by the sense of loss and grief, nothing interested her anymore. Things only began to look up for her when she heard there was a requirement for a tailoring instructor at the VTC where she had herself once undergone training. She got the job and continues to teach there till date.
Rina is the only bread-winner in the family, shouldering her old parents' responsibilities entirely on her own. For this reason, she doesn't think she will ever be able to get married and have a family of her own but she isn't too bogged down by that. She finds a great outlet in her work and engaging with young girls for whom she is an immense source of inspiration. She is also the mentor for the estate's adolescent girls' club, Jonaki Kishori, which among other things spreads important messages about health and hygiene and gender rights in the workers community living on the estates.