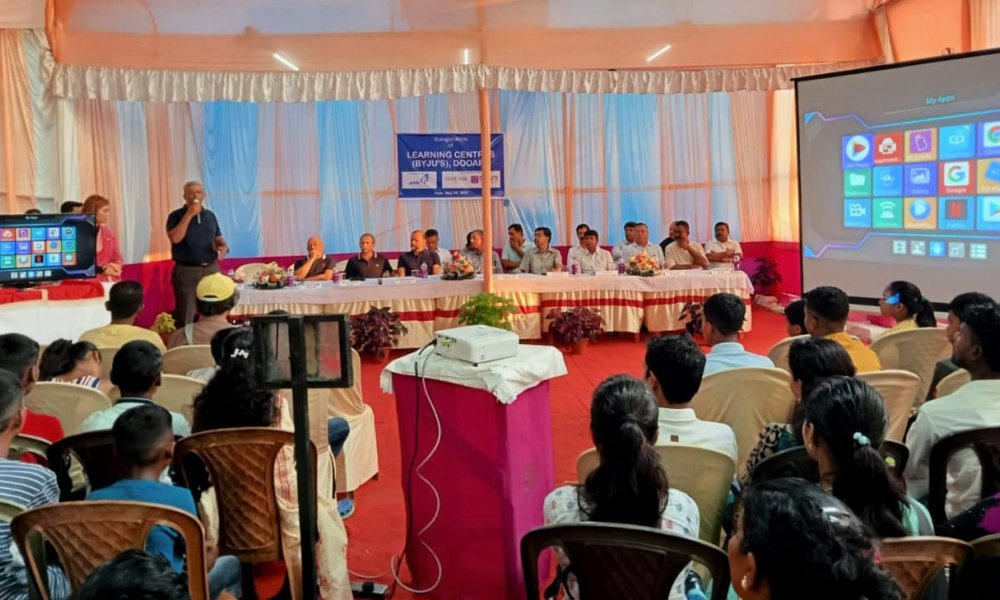 Learning Centres for Dooar's Tea Estates
APPL Foundation launched an e-learning programme and inaugurated 'Learning Centres' at Dam Dim and Nowera Nuddy tea estates of Amalgamated Plantations Pvt. Ltd. (APPL). It is a SMART TV -based classroom education to provide quality education to children studying in Classes 4 to 12 of the Tea Communities.
The programme was officially inaugurated on May 25th, 2022, at Dam Dim tea estate by Managing Director & CEO of APPL, Mr. Vikram Singh Gulia. The ceremony was attended by many school going children from the two estates and representatives of all levels of estate employees, along with Mr Subhasis Mukherjee, Joint Secretary DBITA; Mr Naba Kumar Biswas, Development Officer from Tea Board India; Senior Executives of APPL. APPL Foundation was represented by Mr Amitava Sen, Secretary and Ms Gayatri Baruah.
This is a supplementary education initiative in which children with smart phones and internet access can register for free to access grade specific BYJU'S study content.  For children without smart phones or internet access, VAHDAM (India) partnered with BYJU'S for the procurement of Android boxes. The programme covers two subjects with two classes per day- Science and Mathematics and in two different languages - English and Hindi. A total of 833 students from Dam Dim and 343 from Nowera Nuddy from Classes 4 to 12 can now be enrolled for the programme. For Classes 11 and 12, only Commerce would be taught.
The coordinators of the programme are graduates who belong to the Tea Estates. The coordinators assist the children in navigating the BYJU'S app, SMART TVs with set-top boxes and in comprehending the study material as required. This is an entrepreneurial model that provides the coordinator with a monthly allowance and a further incentive.
This programme will be piloted for a year and depending on its success, extended to the other two Dooars Estates, Rungamuttee & Batabari and then to the Assam Tea Estates of APPL.
Key Performance Indices to be monitored for determining success are:
Improvement in the percentage marks scored across the Four Periodic Exams.

Monitoring and reduction in the school drop-out rates in both Estates.
Project Gallery