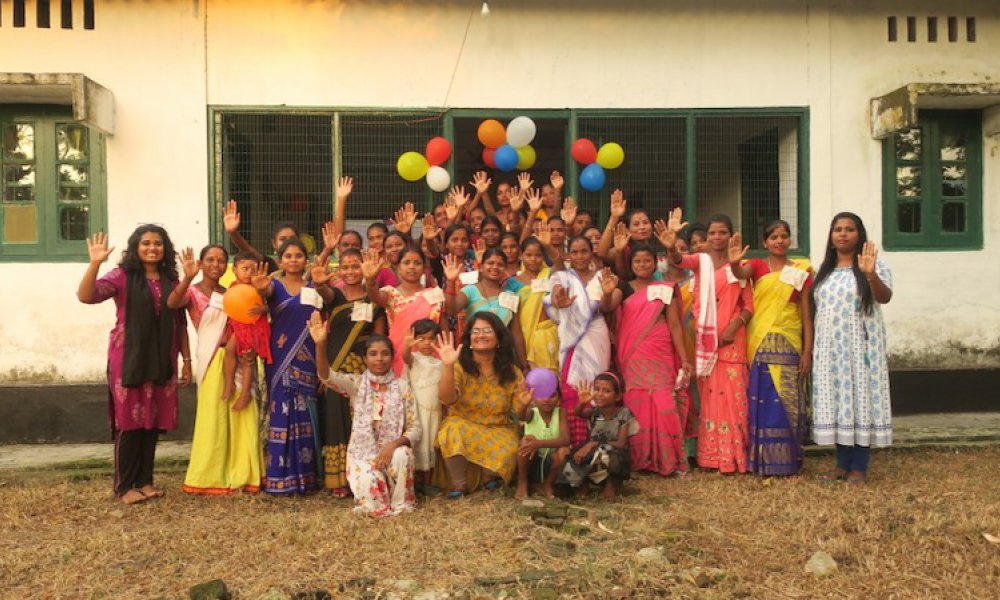 Women Prosper
APPL Foundation in collaboration with Starbucks Foundation, Barefoot College and SHRI Foundation has initiated a positively impact the lives of rural Assamese women and their communities at Hathikuli. The programme addresses holistically; better health and wellness, sanitation at community level and economic Opportunity, vis à vis secondary livelihood development. In order to mapping the current situation, opportunities and needs in order to establish a long-term road map for intervention and implementation a team of experts visited the communities. A reciprocal visit by members of APPLF and APPL to Barefoot College's campus at Tilonia strengthened the network of collaborators.
The first step in the programme was the solar training.
Two women volunteered to join the Barefoot campus in Tilonia and underwent solar training and to become on-the-estate Solar Training Facilitators. Their transformative journey began in the first week of April, leaving their villages for the first time and traveling along across 5 states from the very eastern state of India to the hot and humid plains of Rajasthan, crossing over 4 states and 2,500km — the widest stretch of the country. After graduation they are back in their communities and will soon start to help in undertaking selection of women for solar enterprise team where they will be the trainers. Another major accomplishment of the programme is Enriche training. A host of women, young and old from the community have been trained by Enriche Master Trainers. After a composite training on the Enriche Curriculum Peer-to-Peer Facilitators (PPFs) have been formed who will in future generate awareness among to women across selected communities. The PPFs have bene trained and generate awareness on Human, Legal & Civil Rights, Financial Literacy, Self-Awareness & Agency, Sustainable Living Practices, Functional Digital Literacy and Micro Enterprise Skills. Other identified behavioral challenges as poor savings behaviour, domestic violence (especially due to substance abuse), poor family structures, and teenage pregnancy were also part of the training programme.
The programme in future will initiate activities in relation to WASH, sanitation, beekeeping and digital literacy besides continuing the ongoing initiatives.
Progress so far
Our Solar Entrepreneurs:
22 Solar Entrepreneurs from Hathikuli Tea Estate were trained in the manufacture of solar equipment. Solar entrepreneurs are undergoing ENRICHE and digital literacy training in order to conduct local sales and learn how to track transactions using Smartphone. Rural Electronic Workshop (REW), a special solar workshop was built at Hathikuli for production of solar lanterns.
Our Bee Keepers:
21 women from Hathikuli Tea Estate were trained in beekeeping and will soon be provided with the necessary equipment to start the initiative. They have already produced 24 kgs of honey worth Rs. 11000/-.
Voice against domestic violence:
The BCI Enriche team is working on the 'Mera Haq Meri Zimmedari' project to raise awareness regarding domestic violence, human rights, and equality. 4 community leaders were trained, and 50 women were consulted so far.
Alternate learning opportunities for youngsters:
750 adolescents and 150 parents of Hathikuli are being engaged with a gender awareness curriculum and programmes.